This is where you download firmware versions for the RVLVR CLUTCH handle.
Windows and MacOS versions are available:
Windows Clutch programmer/firmware is here - v1.32
MacOS Clutch programmer/firmware is here - v1.32
You can get the older versions at the bottom of the page.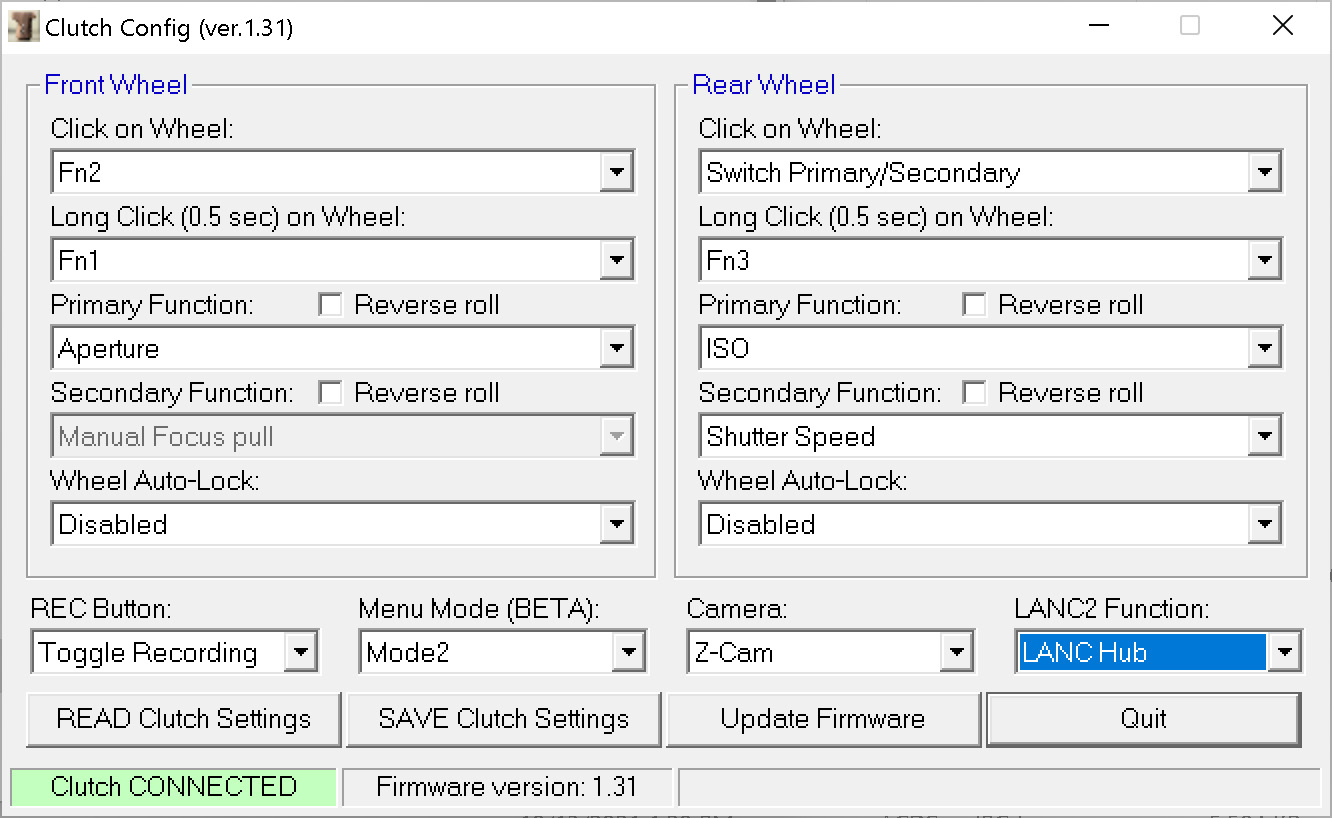 The Instructions:
Connect Clutch via USB-C connection (you can use a USB-C to USB-C cable or in some cases a USB-C to USB-A)

Update Firmware (this should be auto-detected if necessary)

Select Primary Function:

This includes:
Aperture, Shutter Speed, ISO, Focus Pull, Zoom, Electronic ND, White Balance, WB Tint, Audio Gain (ganged), Audio Gain (Left only), Audio Gain (Right only)
You can also reverse them if you prefer.

Primary function is what happens when you rotate the wheel (it increments/decrements accordingly).


Select Click on Wheel feature:

You can pick from:
Switch Primary/Secondary, Fn1, Fn2, Fn3, Fn4, Take Photo and Toggle Recording (allowing you to use any wheel instead of or in addition to the Record button)

You can also select a Long-click for an additional set of clickable button functionality. Note that a long click is not very long - just needs to be above 0.5 seconds (maximum of 2 seconds btw)
If you set Short/Long click to a button mapped to White Balance and White Balance is set to Manual - Long-click will do a momentary Auto WB feature.


My go-to setup is Aperture on the front wheel with Short click = Fn2 (which I set to Magnify) and Long click = Fn3 (which I set to Peak). On the rear wheel I have Shutter speed/ISO with Short click = Switch Primary/Secondary.


Additionally you can use a setting called "Selection mode" - which allows you to dial in specific settings such as VFR - that would ordinarily need to be selected via the menu.


Special features

Menu: This is in BETA. Unfortunately LANC is not a very clever protocol (i.e. the Clutch cannot know what menu setting it is actually in - so instead we "cheat" and we count menu levels - i.e. 1 level deep, 2 levels deep etc - and when we get back to zero levels normal controls are resumed.

However this doesn't always work perfectly (because sometimes the camera exits the menu structure abruptly) so I'm curious what people will think of it.

If you turn on the menu mode (either Mode 1 or Mode 2) in the firmware you open the menu by clicking BOTH dials simultaneously (short click)

Then - in MODE 1 (front wheel click = OK, back wheel click = BACK, back wheel rotate = step through menu options)

In MODE 2 (front wheel click = BACK, back wheel click = OK, back wheel longer click (0.5 seconds) = BACK

To get out of the menu system click BOTH dials again.

If the menu system confuses the Clutch for reasons I mentioned above hold the Rear wheel click for 4 seconds and the Clutch will reset (or pull the LANC cable in/out.

Record Button: You can use the record button to turn the camera on (long hold, for 4 seconds), and the same to turn the camera off (long hold, for 4 seconds).
New Feature - Burst mode - continuously record photos as long as the button is held down.

LANC 2 Function
You can daisy-chain multiple Clutch handles together - just make sure you connect the ZCAM camera to the center connector of the Clutch - the outside connector can then be used to connect additional LANC devices whatever they might be. From firmware v1.31 onwards - Sync start of ATOMOS Ninja V is supported in all modes.

Audio sync start: Using certain devices and a custom cable (e.g. Zoom H2N, H4N) you can automatically start recording on the audio device when you click the Red record button on the Clutch - but you need to set LANC2 function to H4N control - and this requires a separate cable.


Once you have setup your desired functionality - click Save-Clutch-Settings and that's it. Go shoot with it ;)


Check out the install video if you're having difficulty.
Older Firmware:
ver 1.31 (Mac)
ver 1.31 (PC)
ver 1.30 (Mac)
ver 1.30 (PC)
ver 1.28 (Mac)
ver 1.28 (PC)
ver 1.25
ver 1.24
ver 1.23
ver 1.22
ver 1.21
ver 1.20